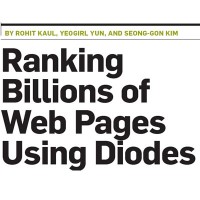 Quest'oggi mi sono letto un paper molto interessante che mi è stato segnalato dal mio amico Michele Mazzucco che potete trovare qui: http://portal.acm.org/citation.cfm?id=1536616.1536649

Il paper dal titolo "Ranking Billions of Web Pages Using Diodes" di Rohit Kaul, Yeogirl Yun, and Seong-Gon Kim risulta davvero molto interessante e prende in esame alcuni punti molto interessanti confrontando il loro nuovo algoritmo di ranking denominato AIR ai già noti PageRank, TrustRank, DiffusionRank.
In sostanza l'algoritmo AIR si basa su concetti molto semplici e viene implementato convertendo il Web nell'equivalente di un circuito a diodi. Gli studi effettuati hanno mostrato come questo algoritmo riesca a identificare in modo molto efficace le risorse di bassa qualità e le artificiosità declassando algoritmicamente quei siti che vengono rilevati tali.
Il paper è di Agosto 2009 anche se credo che lo studio sia stato precedente perché pone troppo rilievo sul paragone con il PagerRank, oramai in un certo senso "decaduto", invece di incentrare gli sforzi sul confronto con il  TrustRank.
Inoltre sulla base di questa ricerca e dei test fatti su AIR se è vero che da un lato riduce lo spam, il solo affidarsi a questo strumento di valutazione ingigantirebbe in modo rischioso le differenze e il potere di pochi grossi e potenti siti a discapito di piccoli e nuovi arrivati (Almeno in Italia dove la citazione è davvero poco amata).
In definitiva se le statistiche riportate nel paper sono comprovate allora si tratta davvero di un ottimo strumento per ridurre lo spam, ma va comunque combinato con gli altri per rendere il ranking dei siti più fluido senza troppi gap tra grandi e piccoli…seguirò con attenzione eventuali sviluppi futuri.